Description
For home, office, school or workplace – now you can get rid of water bottles!
Stylish and modern Nobel Star Business Water Dispenser – with built-in filtration system for water from wells with reverse osmosis system.
Thanks to this solution you can be sure to drink perfectly clean, healthy and tasty water served from the appliance in two temperatures: hot water (max. 94 ° C) and cold water (min. 6 ° C).
The appliance is equipped with a pump that boosts pressure so that there is never a shortage of drinking water. Performance per day is max. 350 liters of clean water.
Technical data:
Dimensions: 56 cm, width 28 cm, depth 40.5 cm
Cold water tank capacity: 6 liters
Capacity of hot water tank: 2 liters
Power supply: 230V / 50Hz
Cooling Power Consumption: 140W
Heating energy consumption: 500 W.
Noise level: below 70 dB
Inlet water temperature: 5-35 ° C
Inlet water pressure: 1.5 – 3.5 atm
Coolant: R134a (31 g)
Water tanks made of stainless steel
The appliance requires a connection to cold water and sewage.
All installation accessories are included with the device
Electronic control panel: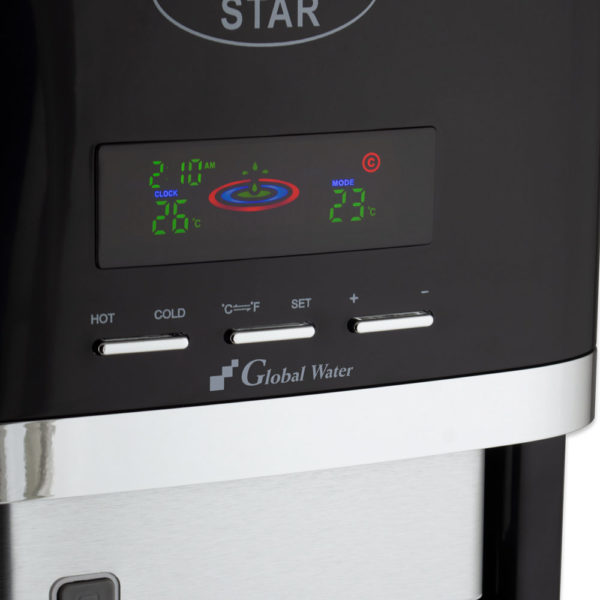 Each function can be switched on/off separately: heating or cooling water.
Information on the current time and temperatures of the water in the tanks. Automatic maintenance of set water temperature – possibility to choose water temperature in the range:
cold water: 6 – 15 ° C
hot water: 35 – 94 ° C
Three modes to choose from:
General mode: the device is in constant operation
Home mode: device is open from 6am to 8am, 11am to 2pm and 5pm to 10pm
Office mode: The device operates between 7: 30-20: 00
Water temperature can be displayed in two options: Celsius or Fahrenheit
The control panel remembers the settings – they do not reset when the device is off.
Protection:
The device has built-in overheating protection – it emits an acoustic signal and switches off the heating function in case of excessive rise in water temperature (98 ° C). Other functions work normally. In addition, protection against sensor failure or short circuit is used.
Water filtration stages:
First scrub cartridge (sediment cartridge) – 5 microns
Activated carbon cartridge.
Thorough cleaning cartridge (sediment cartridge) – 1 micron
100 GPD osmotic membrane
In-line coconut shell activated carbon cartridge