HYDRA is a self-cleaning mechanical filter with innovative solutions in the self-cleaning process. The new design of the wash system allows the most efficient removal of the filter deposit. It can be used for various purposes, from mechanical pre-filtration to water softener, to chemical pre-treatment for laboratory use.
It has a perfect design and is distinguished by the quality of the material and the final processing characteristic of the products from Italy. The mechanical water filtration of this type can be used in numerous water treatments in domestic and commercial water preparation applications.
The self-cleaning process is performed by simply opening the discharge valve at the bottom of the filter, resulting in a pressure drop further pushing the specially designed bottom cartridge to the bottom of the housing and returning the flow of water from the outside to the inner side of the cartridge by imparting a deposit accumulated from the outside of the housing. The plunger is further discharged from the lower valve, which comes with a specially designed funnel that prevents backflow contamination.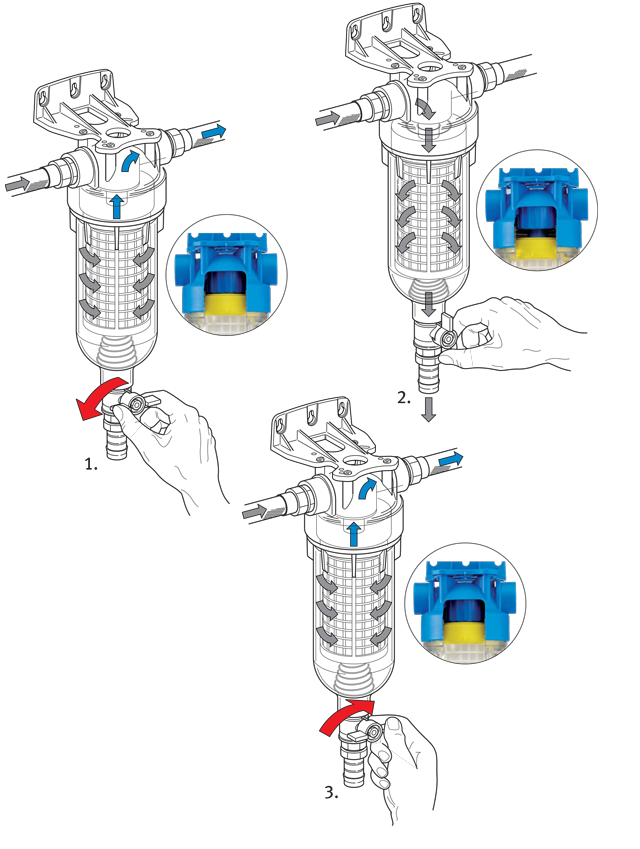 Hydro filters come with a brand new flat seal with anti-bacteriological protection. The Hydra is available with 1/2 ", 3/4", 1 ", 1 1/2", 1 1/4 "metal thread and outlet, and comes with complete accessories: wall bracket, opening key, clamp, funnel, and discharge valve. It's made from the finest and most modern materials, with a constant focus on innovative processing technology and ongoing modernization to ensure absolute product quality. The device is certified to the most stringent standards: ACS (France), ANSI / NSF (USA), GOST (Russia).Characteristics:
Max working pressure: 8 bar
Minimum working pressure: 1.8 bar
Max working temperature: 45 ° C
Min working temperature: 4 ° C
Non-toxic materials, suitable for drinking water
Head: reinforced polypropylene
Drain valve: nickel plated brass
Joint and funnel: reinforced polypropylene
Hydra dimenzije

| | | | |
| --- | --- | --- | --- |
| Model | Input/Output | Flow l/h | Dimension (mm) A*B*C |
| Hydra RLH | 1" 1/4 | 8 000 | 415*120*107 |
| Hydra RLH | 1" 1/2 | 10 000 | 415*120*107 |
| Hydra RAH | 1" 1/4 | 8 000 | 415*120*107 |